Up-to-Date Developments in the IoT Market and Insights into the Near Future of IoT Technologies
How Did the IoT Emerge? The History of IoT (Internet of Things)
The internet of things is a network where physical objects (things) connect by sensors, software systems and other technologies to share data with the internet and communicate with each other.
The talks of a concept which introduced networking of smart devices started in 1982 with a vending machine, the first object with an internet connection. This internet-connected object was a Coca-Cola vending machine modified at Carnegie Mellon University. This vending machine provided stock information and reports of whether newly loaded drinks are cold.
The concept of Internet of Things was first expressed by Kevin Ashton in a presentation he prepared for Procter & Gamble in 1999. Ashton argued that RFID (radio-frequency identification) systems are a requirement for IoT technology, advocating that computers can control all workforce systems.
Application of IoT Technologies Today and Current Status of the IoT Market
IoT appeared as a concept for the first time in 1999 and it gained speed in 2011 with intensive global usage. IoT technologies, also known as hidden internet, are rapidly increasing in their use today.
IoT technologies are used in many industries today, from automotive to energy and health to retail. For example, it enables better management of the distribution networks of factories and facilities in the energy sector, and optimization of advertising campaigns by monitoring customer behavior in the retail industry. With IoT technologies, increased service quality, decreased operating costs, and increased employee safety can be attained at their maximum levels.
With the variety of offered solutions, the market share of IoT has increased in many different sectors. According to Statista's data, the IoT market revenue reached $ 100 billion for the first time in 2017. By the end of 2019, the global value of the IoT market increased to 212 billion dollars. By the end of 2025, the value of the IoT market will reach $ 1.6 trillion.
Future of IoT Market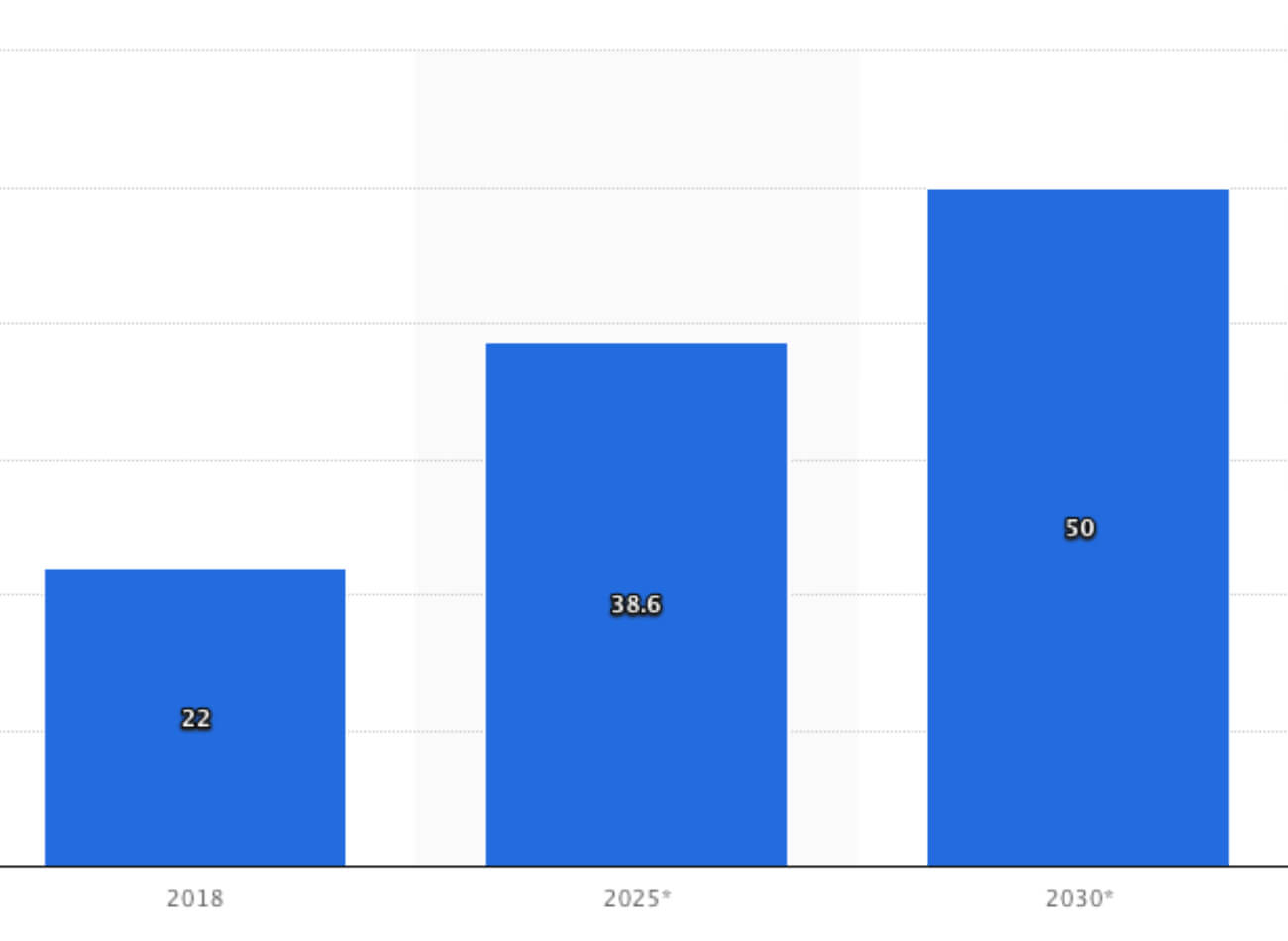 (source: Statista)
According to Statista's predictions, the number of devices connected to the internet is expected to increase from 22 billion in 2018 to 38.6 billion in 2025 and 50 billion in 2030.
Business Insider predictions are slightly higher than Statista's. According to the IoT market report published by Business Insider for 2016 and 2017, it is anticipated that there will be more than 55 billion IoT devices by 2025. According to the report, nearly $15 trillion of investment in IoT is expected between 2017 and 2025. By the end of 2025, 75 billion devices are expected to be connected to the internet and the IoT market is predicted to rise over $3 trillion in 2026.
In line with the researches and predictions, it is undeniable that IoT technologies will reach an even more critical usage dimension in the future compared to today, and the IoT market will grow significantly in this direction. You can contact us to have detailed information about IoT technologies that provide efficiency and savings in every field and for finding solutions specific to your industry.
Resources:
Informationweek
BBC World Service
Security Today
Business Insider
Statista