Digital Transformation and IoT Technologies that Make a Difference in Competition in the Automotive Sector
In the automotive sector, which is one of the sectors that adapt the fastest to technological developments, companies that make the most investments in technology stand out in the competition. The competition in the sector is increasing, trends are changing; Innovative developments such as electric and 5G powered autonomous vehicles trigger technology investments in the sector. The use of digital technologies in production facilities is also inevitable for this sector. According to researches, it is predicted that businesses that cannot adapt to digital transformation will face very serious risks in the next few years. Digital transformation; changes almost everything in a company's business processes, from production methods in the automotive industry to customer expectations and distribution channels. Technological developments, which now have a very important share in every stage of the automotive production segment; enable business efficiency, quality, and savings opportunities to its users by providing digital transformation.
What Does IoT and RTLS Technologies Bring to the Automotive Industry?
When starting the journey of digitalization, it is the most critical issue to set out with the right technology and the best address for this is IoT technology. Bringing IoT technology together with the search for solutions for the needs is achieved thanks to the experience and the right business partnership. Automotive companies that adopt IoT technology and correct business partnership models can provide savings, efficiency, and quality with the data they collect in this context. The benefits that companies provide by integrating IoT technologies into their existing operations are one of the biggest indicators that this development process in the automotive industry is now inevitable.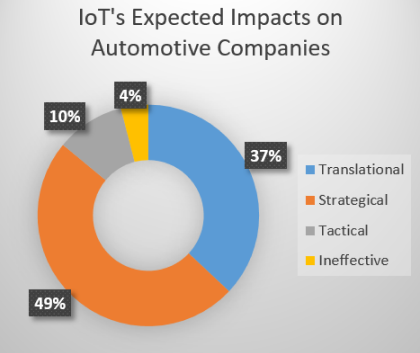 As can be seen in the graphic on the up above, the effects of IoT in the automotive sector are discussed strategically, transformationally, and tactically. Strategic impact, with a share of 49 percent, corresponds to almost half of the total impact, Transformational effect follows the strategic effect with another big slice of 37 percent.
In addition, the investments made by many companies in the automotive industry in the world to implement IoT and Big Data & Analytics solutions are increasing day by day. Because the automotive industry should see digital transformation as an opportunity to update and renew its infrastructure and operations in order to remain competitive in both local and global markets.
As can be seen in the chart below, automotive manufacturers have important investment applications in IoT technology and Big Data & Analytics.

The effects of IoT technologies, especially on the production segment, significantly increase productivity. Monitoring all operations in the production line instantly and in real-time makes great contributions to the automotive sector as in every sector. Thanks to the most advanced IoT, RTLS, and AI technologies and integrations, processes can be accelerated and productivity can be increased in enterprises. For example, RTLS technology has replaced the traditional barcode reading method in the production stages. Moreover, with RTLS technology integrated with IoT technology, in the automotive industry;
Finding products and devices easily,
Identifying and correcting unnecessary transactions in real-time,
Task sequencing and material routing optimization,
Better use of work areas and prevent unnecessary waste of movement,
Operations are provided to prevent mistakes and keep employees safe.
These solutions that are produced in order not to cause the production line to stop unintentionally due to any malfunction are programmed to prevent data loss by working with automatic calls, work order arrangements, and instant notifications. These technologies are very important in sectors such as the automotive industry that need to operate autonomously and do not tolerate any data loss.
How to Make Automotive Production Smart Through Digitalization?
In parallel with the increasing importance of digitalization in the automotive sector, smart production functions such as "automatic production, stock planning, real-time traceability and advanced estimation with data, etc." functions have begun to gain critical roles. Smart production, which is a result of digital transformation, contributes to the manufacturers in the automotive sector, especially in the form of the following studies:
Production monitoring and assembly management with production information systems; Following vehicles at every stage of production areas with RTLS technology and digitizing processes that operate manually with barcodes with RTLS,
When raw materials are reduced in production lines, the work order is sent to the nearest forklift automatically to prevent stoppages caused by waiting for raw materials and to ensure the continuity of production,
When product shipment is not made in accordance with the KPIs defined in internal logistics, notifications can be sent to the relevant units and the shipments are carried out correctly,
The production or collection of digital data of factories representing a physical object with IoT technology; Creating digital twins that increase quality, savings, and efficiency by generating insights thanks to these data,
Activating digital quality systems with error tracking which enable the process to be further developed by making continuous changes or updates in the system and minimization of losses due to potential errors,
Digitalization of new product development stages and increasing their efficiency with the test and prototype management system, which offers in-depth analysis to understand customer expectations and to design and produce products and services that can exceed these expectations,
Organizing and controlling production shifts with smart algorithms to obtain maximum benefit.
Trio Mobile IoT Platform, which combines the latest technologies like this with thousands of customer experiences in accordance with your needs, has been developed using the latest technologies with artificial intelligence supported big data infrastructure that provides feasibility studies specific to your business. With IoT Platform, which enables you to manage different modules in each segment of the automotive industry with a single infrastructure and panel, your projects are completed with the highest efficiency and success.
To get more information about Trio Mobil's industry-specific solutions by using IoT technology to increase productivity in your factory and to control and monitor every element of your system such as production lines; contact us.